PG 4
Special Fasteners
We also manufacture special fasteners and parts made to customer specifications – from single items to medium-volume production runs.
Applications

Custom productions

Manufacturing

Product Gallery
Applications

Custom productions

Manufacturing

Product Gallery
Applications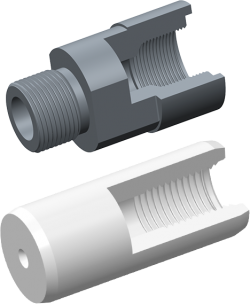 As a thread specialist, we manufacture an extensive portfolio of custom and special screws as well as custom components according to detailed specifications or templates for our customers.
Upon request, we also manufacture individual products from special materials. In these projects, our customers benefit from our many years of experience in the processing of special materials.
Custom productions
A selection of our custom productions:
Hexagonal tension bolts M48 [1.88976 inches] with strength 10.9 for gear construction (length 1.2 m [47.2 inches]) with special
requirements for form and positional tolerances
Spindles with trapezoid and fine threads and additional wrench flats
Hexagonal bolts with special requirements in accordance with ASTM/ASME standards
Shafts with threads and splines made of 42CrMo4 for pump construction
Round nuts Tr50x8 with cross bore for lubrication for plant construction
Manufacturing
Modern machinery
Our machinery enables cost-effective production, from small quantities on series lathes up to medium-volume series on state-of-the-art double spindle machines with bar magazines.
Need an item urgently?
We always make sure that we keep some capacity free in our machine pool to handle urgent orders.
Contract manufacturing of metalworking (steel, stainless steel, steels with special requirements) with short lead times for high standards
Extensive materials warehouse
Careful execution by highly trained specialist workers
Computer-aided production control for timely deliveries
Comprehensive range of tools
Logistics strategies offered,
including just-in-time, consignment warehouse or call orders
Quality management